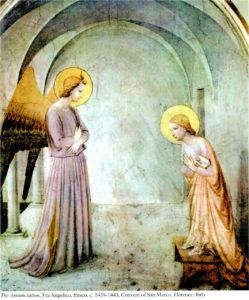 When we think of salvation, are we even interested in it? Especially in our youth or early adulthood, when it seems that we have none of life's hardships; it may feel that we have no need of salvation. But when we are more mature; when we have gone through some of life's struggles, don't we become interested in being saved? (see scripture readings)
Consider the times of the disciples. Life was hard. Imagine having to spend most of your daily effort just to get food on the table. Carrying water from the well, walking out to the fields to thresh grain, gathering wood for cooking, and finally after hours of labor having bread. No wonder we pray, give us this day our daily bread. It was a major concern. Or living in a tent, always afraid that some soldier or villain would break in. No wonder we pray about those trespassing against us. See how Jesus answers the fundamental concerns of their lives through his parable of the narrow gate, the house, and the banquet.
Most importantly Jesus tells that salvation is not finally becoming our own master but entering into relationship with the one true master, with God, the most wonderful being there is. We are invited into his house, to be forever close to him. And being in his house, protected; no longer afraid of those who might trespass. Fed by him as well; no longer needing to toil for their daily bread, but being able to eat forever. We can see how anyone who had any love for God, would have been interested in Jesus' description of salvation.
But then again, we find a great misunderstanding on the part of the person who asked Jesus, "How many of us will be saved." We can see him wanting a number, to be able to calculate the odds that he might be saved as if it were given by a lottery or by the whim of a king saying, (eny meny miny moe). But Jesus corrects his view saying, you only need to strive to receive it; it is being offered to all; enter by the narrow gate. Strive not for one day or one year, but for your whole life, for some who come first may be last.
Jesus also gives him a notion of what it means to strive to enter the narrow gate. Firstly he says that evildoers will be left outside. But another hint comes to us, Jesus says that there will be those that say, "We ate and drank in your company and you taught in our streets." This is a chilling reminder for us. What other experience of life is one where we eat and drink with Christ and listen to him preach? The Mass.  it is here where we eat and drink with him, the Eucharist; it is here where we hear him teach, from this ambo. Yes Jesus seems to be indicating that attending Mass will not be enough to receive salvation; we have to strive beyond that. We have to take the sustenance and teaching we have received and put it into practice; to struggle to be doers of good not only here but in the world.
As you know, we have been hearing testimonies from people in ministries in our parish. And we will be handing out a list of ministries which are in need of your help. St. Joseph's is called to be the hub of Christianity in Nipomo; the place where God's salvation is worked most effectively. We can do better, but we need your help. Many of us feel like we already have full lives, but have we ordered our lives correctly? We were able to find a few extra hours to watch the Olympics; many of our ministries only require a small amount of time. We can enter through the narrow gate; we are being invited. Please prayerfully consider answering the needs of our ministries. Our response may mean not only our own salvation, but the salvation of many; God's salvation which is open to all and needed by all.